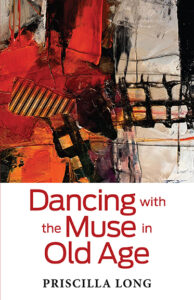 Events to launch Dancing with the Muse in Old Age
November 8: (pub date!); Podcast with life coach Deborah Voll, "Calm the Chaos" podcast. 7 a.m. Pacific time
November 15: Elliott Bay launch on Eventbrite, 6 p.m. Pacific time
November 22: Coming of Age powerpoint 4 p.m. Pacific time
2023
January 19, 2023. Edmonds Bookshop 6. pm. In person.
February 24, 2023. Redmond Association of Spoken Word (RASP). 7 p. m.
Note: For the writer, the journey from wishful to virtuoso is one whose alchemical transformations occur entirely within a process of work. In our classes we work very hard. Are you ready to work and have you cleared enough time to do every assignment to the best of your ability? That is the question to ask yourself as you consider taking one or another of these courses. Oh, yes, we do have fun. But we groan too, and we work.  
Winter Seminar, 2023. Six Mondays, mid-day from 1–3 (Zoom open from 12:30)
Held on ZOOM. The virus is not over and also, we now welcome writers who can't get to Seattle without driving (or flying) for six hors. Six sessions. Cost  $400. Held during the day on six Mondays from 1–3 pm. Final portfolio is due a few weeks after the last class. Limited to 12. I send the link shortly before class and am available on Zoom at 12:30 to chat. 
In this seminar we will compose, as usual, two new pieces and revise a work-in-progress to completion. We will work on sentences, as we do. We now do all sentence work from week to week. The portfolios (three pieces plus the List of Works) will be due postmarked on May 1, 2023.
Form: TBA
Theme: TBA
Required books:
The Writer's Portable Mentor, second edition.
Our extra Book: TBA
Reader brought by Priscilla
We will meet:
1. Monday January 9, 2023, 1–3
Skip Martin Luther King Day
2. Monday January 23, 2023, 1–3
Skip January 30
3. Monday February 6, 2023, 1–3
Skip February 13
4. Monday February 20, 2023, 1–3
Skip February 27, 2023
5. Monday March 6, 2023, 1–3
6. Monday March 13, 2023, 1–3
Portfolios due May 1, 2023.