Greetings and welcome. I am proud to report that my new book of poems, Holy Magic, has received the Sally Albiso Poetry Book Award from MoonPath Press!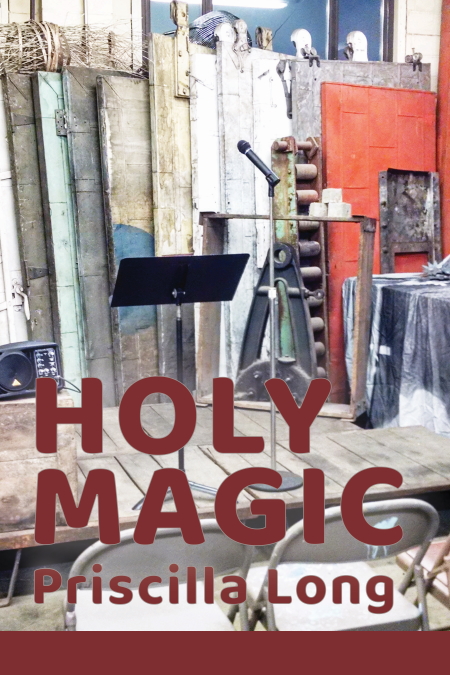 Holy Magic
By Priscilla Long
MoonPath Press
ISBN 978-1-936657-56-8
perfect bound, 108 pages
$16
"Holy Magic leans into the palette of our days and lays out the case, poem by poem, that the light vibrations that surround us are more than a scientific fact, they enter our bodies, trigger our imaginations, inform our moods, soothe our senses….From the tragic, via the mundane, to the sublime, Holy Magic hums in technicolor the song of our existence.
 ~ Claudia Castro Luna, Washington State Poet Laureate, 2018-2021
"…Reading this book, I feel as if I'm being skillfully guided by someone who knows art and, perhaps more vividly, believes in how art makes our lives more resonant—sometimes more pleasantly aware, sometimes more susceptible to pain, but always more fully felt."
 ~ Tod Marshall, Washington State Poet Laureate, 2016-2018
You may find Holy Magic at the following places:
the usual online booksellers. To support independent bookstores go to Bookshop.org
by mail-order or in person from the very efficient Elliott Bay Book Company. (call 206-624-6600 or toll-free 1-800-962-5311)
Booksellers go to Ingram.
---
Priscilla Long is a writer of poetry, essays, creative nonfictions, fictions, science, and history. She has an MFA degree from the University of Washington and teaches writing.
Her guide to writing is The Writer's Portable Mentor: A Guide to Art, Craft, and the Writing Life. Her books of poems are Holy Magic (MoonPath Press, 2020) and Crossing Over: Poems (University of New Mexico Press, 2015). Her collection of linked literary nonfictions is Fire and Stone: Where Do We Come From? What Are We? Where Are We Going? (University of Georgia Press). Her handbook for artists of all kinds is Minding the Muse: A Handbook for Painters, Composers, Writers, and Other Creators. Her scholarly history book is Where the Sun Never Shines: A History of America's Bloody Coal Industry.
She wrote an every-Wednesday column at The American Scholar website titled Science Frictions. The complete set of 92 pieces on everything from Saturn to salt may be found here: http://theamericanscholar.org/the-complete-science-frictions/
Priscilla serves as Founding and Consulting Editor of HistoryLink.org, the online encyclopedia of Washington state history, www.historylink.org/