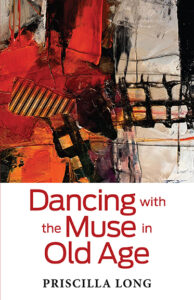 Dancing with the Muse in Old Age

By Priscilla Long
Epicenter/Coffeetown Press
ISBN 9781684920204 (trade paper)
ISBN 9781684920211 (e-book)
perfect bound, 210 pages
$15.95
EVENTS 2023
February 9, 2023: 7 p.m. Town Hall: Creating and Aging: How the Arts Help Us Thrive in Old Age. A conversation with Priscilla Long and visual artist Elayne Vogel. https://townhallseattle.org/event/priscilla-long/  Presented by by Northwest Center for Creative Aging.
February 24, 2023. In-person event, Redmond Association of Spoken Word (RASP).7 p. m.
March 29, 2023: Village Books, Bellingham. Poetry class in the late afternoon. Evening, an in-person presentation on Dancing with the Muse in Old Age.
Past Events: 2023
January 19, 2023. Edmonds Bookshop 6. pm. In-person event to honor Edmonds poet John Wright
January 17, 2023. Presentation at Mary Schwartz Summit Retirement Community.
Past Events: 2022
November 8: pub date!
November 11: Podcast with life coach Deborah Voll, "Calm the Chaos" podcast. 7 a.m. Pacific time
November 15, 2022: Elliott Bay Books launch on Eventbrite, 6 p.m. Pacific time. You can watch the event on YouTube here: https://www.youtube.com/watch?v=B_1Sk27UE0A&t=363s
November 18, 2022: Interview with Donna Seebo
November 19, 2022: Bookfest, Phinney Neighborhood Center. I signed and read along with other fabulous authors.
November 22: Coming of Age webinar with Jeff Nessler 4 pm Pacific time, 7 pm EST https://pssusa.org/coa/ (Presbyterian Senior Services)
December 1, 2022: Conversation with Marsha Casper Cook and Jack Remick.
December 7, 2022: Interview with William Kenower, Author Magazine
December 9, 2022: Live presentation at Folio: The Seattle Athenaeum
Note: For the writer, the journey from wishful to virtuoso is one whose alchemical transformations occur entirely within a process of work. In our classes we work very hard. Are you ready to work and have you cleared enough time to do every assignment to the best of your ability? That is the question to ask yourself as you consider taking one or another of these courses. Oh, yes, we do have fun. But we groan too, and we work.  
Held on ZOOM. The virus is not over and also, we now welcome writers who can't get to Seattle without driving (or flying) for six hours. Six sessions. Cost  $400. Held from 7 to 9 in the evening.  Final portfolio is due postmarked day after Labor Day on Septmeber 5. Limited to 12. I send the link shortly before class and am available on Zoom at 6:30 to chat. 
In this seminar we will compose, as usual, two new pieces (can be short fiction or nonfiction) and revise a work-in-progress to completion. We will work on sentences, as we do. We now do all sentence work from week to week. The portfolios (three pieces plus the List of Works) will be due postmarked on September 5, 2023.
Form: Instead of a particular structure, in this class we will focus on the craft skill of using colors in the work. Red, raspberry, blood, red ocher, ruby, rose, crimson….
Theme: Water
Required books:
The Writer's Portable Mentor, second edition.
Our extra Book: A. S. Byatt, The Matisse Stories
Reader brought by Priscilla
We will meet:
Class 1: Monday, June 5, 2023
Class 2: Monday, June 12, 2023
Class 3: Monday, June 19, 2023′
Class 4: Monday, June 26, 2023
Skip July 3, 2023
Clas 5: Monday, July 10, 2023
Class 6: Monday, July 17, 2023